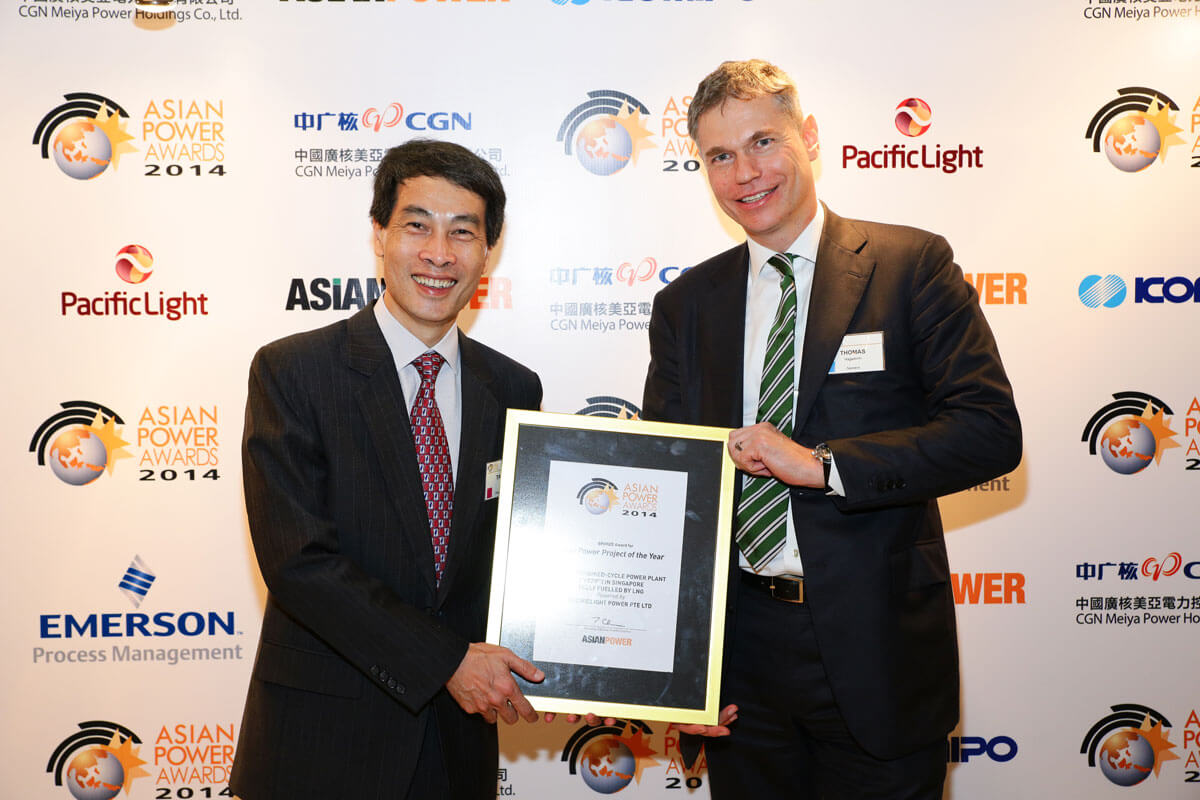 Singapore, 29 September 2014 – PacificLight Power Pte Ltd ("PLP") has been given an award under the category of Asian Gas Power Plant of the Year 2014 by the Asian Power Awards.
PacificLight CEO, Mr Yu Tat Ming, accepted the award at a ceremony held on 11th September in Kuala Lumpur attended by industry executives and business partners. This prominent annual ceremony, established in 2004 by the Asian Power Magazine, has been recognising top achievers, best practices and innovations in the region's power industry and is judged by an independent panel of experts.
PacificLight operates an 800MW state-of-the-art Combined Cycle Gas Turbine ("CCGT") power plant on Jurong Island and is the largest consumer of Liquefied Natural Gas ("LNG") in Singapore, utilising Singapore's first LNG import terminal operated by the Singapore LNG Corporation Pte Ltd ("SLNG"). The plant has been operating successfully since January 2014.
Mr. Yu Tat Ming, CEO of PacificLight Power, commented, "It is an honour for PacificLight to receive this prestigious award in our first year of commercial operation. The team at PacificLight have done a tremendous job of managing the transition from a construction entity to an operating company and I am delighted that this achievement has been recognised through this accolade. Having an efficient and reliable plant has enabled PacificLight to cement its position as a strong competitor in the Singapore retail market, providing our customers with competitively priced electricity and excellent customer service."
Construction of the S$1.2-billion power plant commenced in 2011 under an Engineering, Procurement and Construction contract awarded to a consortium of Siemens and Samsung C&T. The plant was completed on schedule without a single lost time incident.
Situated on an 11.3-hectare site on Jurong Island at the western end of Singapore, the power plant features the latest F-class gas turbines from Siemens. In addition to other efficiency-boosting features, the F-class gas turbines are designed to comply with stringent international emissions standards and ramp up its full capacity in 60 minutes, making it one of the most efficient and flexible power plants operating in the region.
Mr. Lothar Balling, Executive Vice President and Head of Global Project Management at Siemens AG, said "For this project, Siemens partnered with Samsung C&T and has again demonstrated our vast technical expertise in fossil power plants. The PLP power plant on Jurong Island, Singapore was completed with utmost quality and excellence in technology, schedule, health and safety during execution."
Mr. Paul Shin, Vice President and Head of South East Asia of Samsung C&T Corporation, commented "We would like to congratulate PacificLight for the prestigious award and are honoured to complete this project with our long-term partner Siemens, to the satisfaction of our valued client."