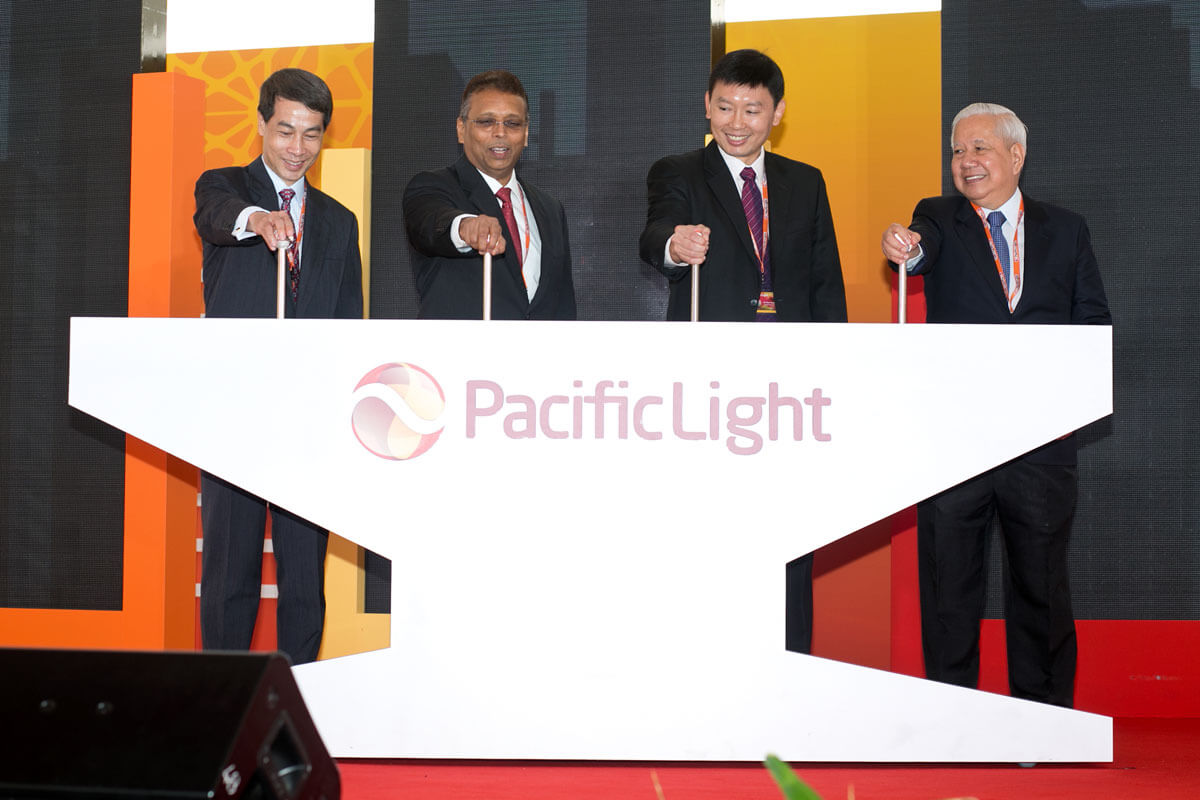 Singapore, 3 June 2014 – PacificLight Power Pte Ltd ("PLP") launched today its 800MW state-of-the-art Combined Cycle Gas Turbine ("CCGT") power plant located on Jurong Island, making it the first in Singapore to be completely fuelled by liquefied natural gas ("LNG"). The use of LNG is part of Singapore's plan to diversify its energy sources and to decrease its reliance on piped natural gas.
Mr Chee Hong Tat, Chief Executive of Energy Market Authority, officiated the opening ceremony, which was attended by government officials, shareholders, industry representatives and business partners.
Construction of the S$1.2-billion power plant commenced in 2011 under an Engineering, Procurement and Construction contract awarded to a consortium consisting of Siemens AG, Siemens Pte Ltd and Samsung C&T. Completed on schedule earlier this year, PLP's 800MW power plant contributes 6.2% to Singapore's total installed generating capacity.
Situated on a 11.3-hectare site on Jurong Island at the western end of Singapore, the power plant features the latest F-class gas turbines from Siemens. In addition to other efficiency-boosting features, the F-class gas turbines are designed to comply with stringent international emissions standards and ramp up its full capacity in 60 minutes, making it one of the most efficient and flexible power plants operating in the region.
First Pacific Managing Director and Chief Executive Officer, Mr. Manuel V. Pangilinan, commented, "Today is a significant day for investors. We expect steady and growing demand for electricity in the coming years and PLP will be key to meeting that demand."
Mr. Pramod Kumar Karunakaran, Vice President, Infrastructure & Utilities, Downstream Business PETRONAS, commented, "PETRONAS is pleased to see the successful completion of the state-of-the-art operating facility, which delivers clean energy to its customers. The Project has enabled PETRONAS to build upon its existing capabilities and establish its presence in Singapore's merchant market."
Mr. Yu Tat Ming, CEO of PacificLight Power, commented, "The launch of the PacificLight power plant is a momentous occasion for our organisation. This has been made possible due to the support received from the government agencies, our contractors, shareholders, customers, lenders and most importantly, our unwavering and dedicated team of staff. With our state-of-the-art power plant in place, we are committed to become the preferred energy solution provider in Singapore, offering tailored energy solutions and excellent customer service to our customers."
On behalf of the EPC contractor, Mr. Lothar Balling, Executive Vice President and Head of Global Project Management at Siemens AG, said, "Siemens and our consortium partner, Samsung C&T, are delighted to be able to contribute to the success of PacificLight today. Together, we have delivered a high-quality, technologically advanced and environmentally friendly power plant that was constructed in time without a single lost time incident throughout the plant's 2.5- year construction period."