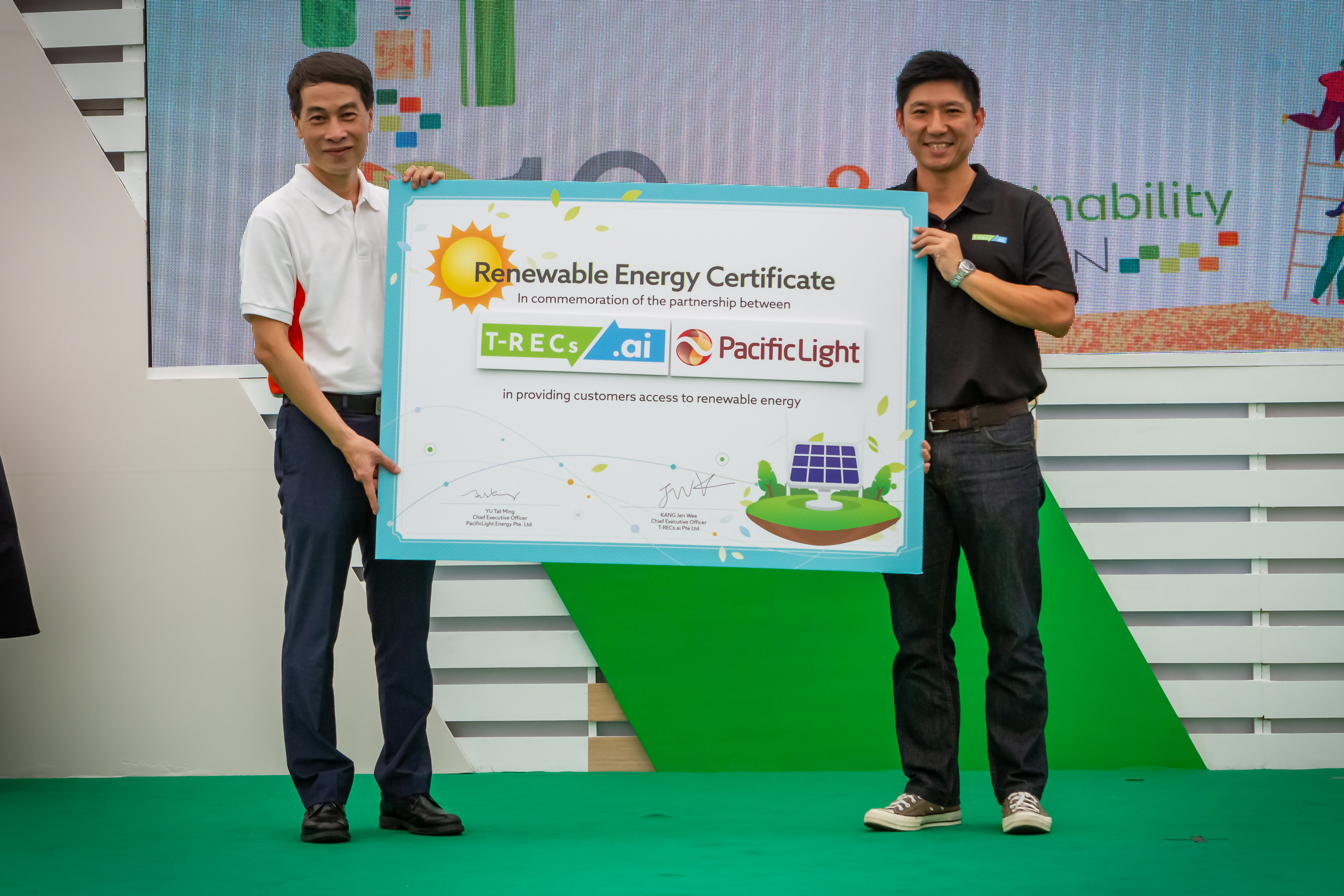 Singapore, 3rd November 2019 – PacificLight, an electricity power generator and retailer in Singapore, has officially launched its Sunny Side-Up 12 Plan. In conjunction with Renewable Energy Certificate (REC) trading platform T-RECS.ai, the new plan provides a fully transparent renewable energy option for Singapore residential consumers.
The Sunny Side-Up 12 Plan allows environmentally-conscious customers to become 100% renewable and carbon-neutral in their household electricity consumption. The Sunny Side-Up 12 Plan, marketed at a competitive launch price of S$0.1766/kWh (incl. GST), is the most competitive renewable plan currently available in Singapore. Customers are able to track the source and vintage of the RECs issued to them through T-RECS.ai's trading platform with serialized RECs purchased directly from existing solar farms operating in the region. T-RECs.ai's platform, powered by blockchain and artificial intelligence, allows consumers to have independent verification of their certificate ownership.
A REC certifies that the bearer owns 1,000 kilowatt-hour (kWh) of electricity generated from a renewable energy source. As both renewable (solar, hydro, wind) and non-renewable energy generators channel electricity to the same grid, the source of electricity becomes indistinguishable. The purchase of RECs allows consumers to confirm that the source of their energy consumption is from a renewable source, reaping both the environmental benefits of renewable energy as well as fueling demand for renewable energy projects across Southeast Asia.
"We are excited to partner with T-RECs.ai to launch an option for the growing segment of environmentally conscious Singaporeans," said Geraldine Tan, General Manager, Retail at PacificLight. "Environmental consciousness is a core value at PacificLight and our Sunny Side-Up 12 Plan offers consumers the choice to power their homes or businesses with renewable energy at an affordable price. As the first energy provider in Singapore to provide such a plan, we hope to play our part in supporting our customers in reducing their carbon footprint."
Kang Jen Wee, founder and CEO, T-RECS.ai, said, "T-RECS.ai is committed to enabling consumers and helping them support sustainable and renewable energy sources through their purchase decisions. PacificLight shares this commitment and was a natural partner for us. We are looking forward to working with PacificLight, not just for the Sunny Side-Up 12 plan, but also offering consumers more choices in the future."
Close to 8,500 of PacificLight's existing customers who opted to receive electronic rather than paper bills have each received 3 RECs at no charge to recognise their efforts in reducing waste. The free RECs are equivalent to 3,000kWh per customer, which equates to six months of an average household's electricity consumption. Existing customers who switch to e-billing before 31st December 2019 will also be eligible to receive the 3 free RECs. For those customers who wish to convert to a 100% renewable plan can do so subject to payment of a minimal fee.
New and existing customers interested in a renewable energy plan can sign up at https://pacificlight.com.sg/promotions/sunnysideup.
The launch of the plan is part of PacificLight's ethos to pioneer sustainability initiatives in Singapore through energy solutions for customers and direct community engagement. Since 2016, PacificLight has been engaging the community through the annual Crea8 Sustainability Competition – which encourages Singaporean youths to tackle environmental issues and lead a sustainable lifestyle through creative avenues such as poster design and videography. This year's competition focused on the theme of zero waste with the award ceremony held at the 2019 Clean and Green Carnival at Jurong East, on 3 November. Winning entries can be found at www.crea8sustainability.sg/